Trustpilot 4.7/5.0
+2100 anmeldelser
Siempre con envío gratis
Igualamos el precio de todos tus productos
Tienda oficial con más de 100 marcas de diseñador
Read more about Secto 4210
The Secto 4210 floor lamp is part of the original Secto family. The floor lamp is the perfect eye-catcher in the living room and it gives an incredibly cosy light. Secto 4210 has an aluminium body and a shade available in four different colors; birch, walnut, black & white respectively. The shade itself is made of handmade molded birch wood in Finland by well-trained craftsmen. The beautiful birch shade gives the lamp a smooth and soothing light that impels a pleasant mood. The height of the lamp itself can be adjusted as desired, which also makes it useful as reading light.

The popular Secto 4210
The popular
Secto 4210
is a highly stylish floor lamp from Secto. The lampshade is cone-shaped like the two pendants
4201
and
4200
. The big lampshade balances easily and elegantly on top of the slim body of the lamp. The shade is made of light and slim wooden slats which give the lamp a fill and a sense of lightness at the same time. The slim wooden slats allow the light to seep through and radiates pretty, linear shadows around the room. All in all, the lamp provides an atmospheric light to the room. The unique 4210 floor lamp is available in four different variants that can all be purchased from AndLight:
walnut
,
birch
,
black
&
white
.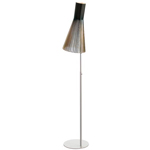 The designer behind the Secto 4210
Seppo Koho (born 1967) is the designer behind the beautiful Secto lamps. Seppo Koho is an architect with a degree from the University in Helsinki, Finland, where he focused on applied arts. Furthermore, he also has a degree from the Technical University of Tampere, Finland. With the Secto lamps, Seppo Koho has started with Finnish materials which give the lamps a unique and calm expression.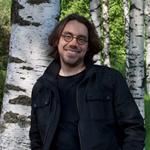 The story behind Secto
The story of Secto begins with an encounter between Secto founder Tuula Juséllius and present chief designer Seppo Koho. During their first encounter, they soon realised that there was chemistry between them and they focused on the same values. Both of them have a big passion for quality craftmanship, natural materials and Scandinavian design. Since that day, Secto has prospered and today Secto is a popular manufacturer, known for their modern designs in quality materials made by skilled craftmen.
Secto 4210